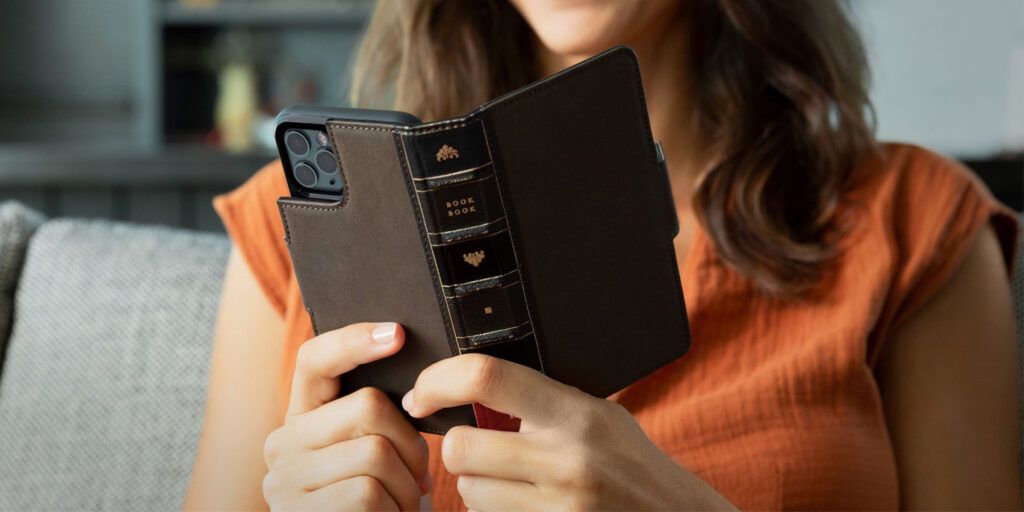 iPhone cases have evolved through the years, and rightfully so. The best – and the most useful – iPhone cases have gone from simply being phone protectors to card holders. There was a time we never thought all of these were possible, but special phone cases can be converted into a mini bag for cards, receipts, and your beloved phone.
The innovation of creators have brought about iPhone cases-slash-card-holders-slash-wallets. With specially designed phone cases, a case is not just a case – it's multipurpose. Talk about getting the bang for your buck.
If you are looking for more from iPhone cases, or if you're done carrying bulky bags when leaving for quick tasks, you've come to the right place. In this review, we're featuring the top 5 multipurpose iPhone cases for all your mini essentials.
How We Decided
So far, multipurpose iPhone cases have not yet saturated the market. This is why we've kept an eye on a few designs we've been loving so far. Since we're a team composed of fans of everything ergonomic and multipurpose, we were very meticulous in trying out and reviewing each iPhone case.
Our guiding question in choosing the products to feature here was this – which of the products will really deliver when it comes to storing essentials? If we can only carry one iPhone case when going out, what would it be?
We checked in with tech geeks, and bag aficionados. From our interviews, here's a quick criterion we have gleaned when it comes to choosing the best iPhone case out there.
The Case Should Be Durable
If a case promises it can accommodate phones and cards, it has to be durable. It should be able to stand the pressure from the bulk that comes from phones, cards, cash, and receipts. The case should be made from a trusted and proven heavy-duty material.
The Case Should Be Secured
If you're carrying all your essentials, you can't afford to get a case that will cause you to lose your important cards! The iPhone case of your choice should have a secured enclosure to give you peace of mind that everything is handled well.
The Case Should Be Compact and Complete
The case you buy should feel like it can actually cater to the size of the phone, and it should also have enough slots for your cards. If the case does not have the appropriate slots for your most crucial cards, you could end up feeling disappointed.
Out of all the iPhone cases we have reviewed, here are the top 5 products that truly impressed our meticulous tastes.
1.Best Overall:LedGuard Retro Leather Case For iPhone 12 11 Pro Max Leather Card Slots Wallet Back Case For iPhone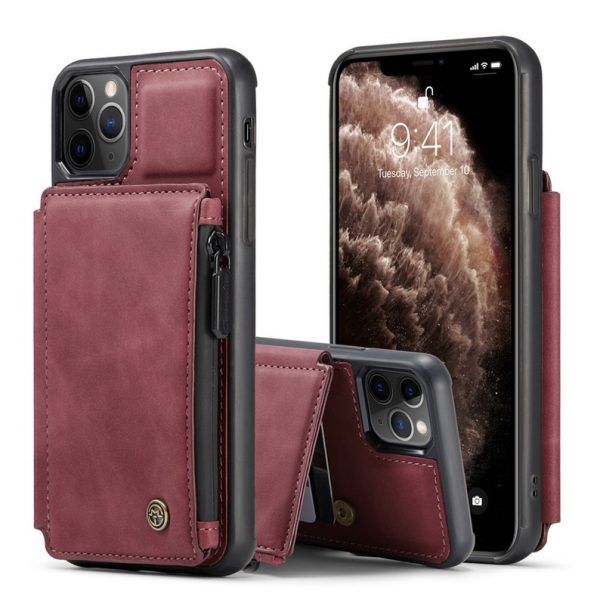 If you prefer to combine elegance and functionality, then you will love the LedGuard vintage leather phone case. With the appeal of a leather accessory, and the benefits of both phone case and wallet, this can be the only accessory you will be needing when going out.
The LedGuard efficiently protects your phone, without scrimping on the aesthetics department. This looks elegant, and the material is bound to be long-lasting.
This leather phone case protects your phone from scratches, dents, and the negative results of falls and bumps.
The case can be converted into a crossbody bag, so you won't have to scramble for bulky bags for emergency and menial tasks.
If you're looking for a phone case that will match your outfits while protecting your phone, LedGuard is the top choice.
2.Fonex Wallet and Zipper Phone Case with Credit Card Holder and Adjustable Straps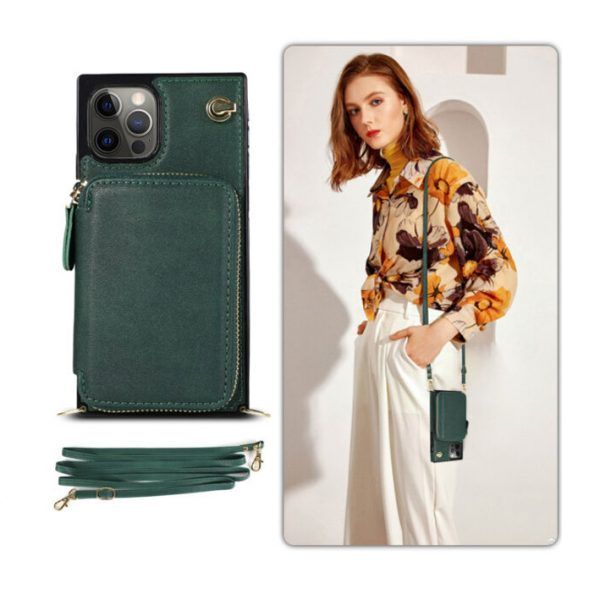 Have you ever felt like bringing bags when you're just going to do quick tasks feels unnecessary? You figure out you only need your essentials, but you don't have a mini bag for that. For everyone who feels like they can do enough with mini bags, we have good news. We found an iPhone case that can double as a mini crossbody bag!
The Fonex features a beautiful leather material durable enough to protect your phone from scratches and drops. Not only is it sleek – it's multipurpose! We love how you can store up to 5 cards in this iPhone case. If you're eager, even 6 cards can fit.
The most impressive feature of the Fonex is its ability to be converted into a crossbody bag! It comes with adjustable straps you can hook into the iPhone case so you can do your tasks hands-free!
This case is lightweight, and is easy to the touch. If you are looking for a phone case that can save you from bringing a bulky bag to the grocery store, the Fonex has got you covered!
3.LexWork iPhone Wallet Leather Phone Case Card Holder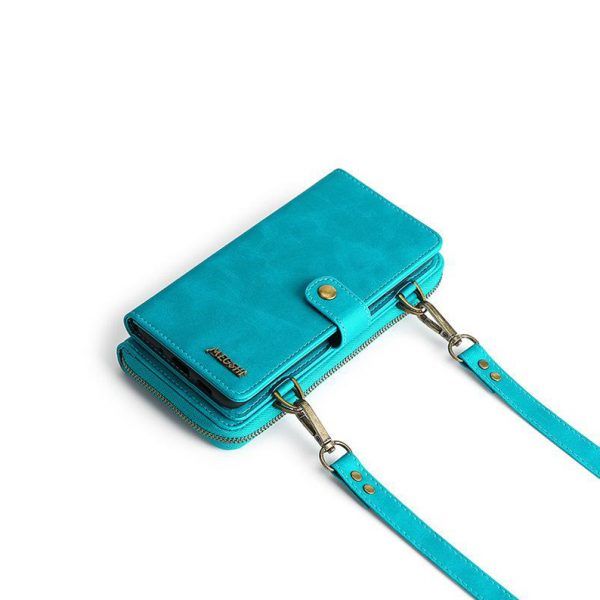 When asked what design they imagine a wallet phone case to have, most respondents for this review, most of them answered that it would look like a wallet with a phone case inside. If you also share the respondent's impressions, you will love LexWork as much as they did.
LexWork is designed like a wallet. It's like a phone case within a wallet. It comes with complete features of a wallet – a zipper enclosure, and slots for 3 cards, and bills. The phone case is embedded inside and is designed to protect the phone from scratches and dents from impact.
With the zipper enclosure, you can ensure your money, cards, and phone are efficiently kept safe. Made with top-quality leather, the LexWork is elegant in every detail. You won't have to painstakingly carry your wallet and phone in one hand – the LexWord effectively combines them together.
If you prefer a hands-free experience, you can also use the adjustable straps that come with the case. The straps allow you to convert your iPhone case into a cute crossbody bag.
If you're looking for a mini bag that can carry your cash, cards, and phone, the LexWork is a product you should consider.
4.Caselet iPhone Wallet Case-Leather Flip Wallet Case With Card Holder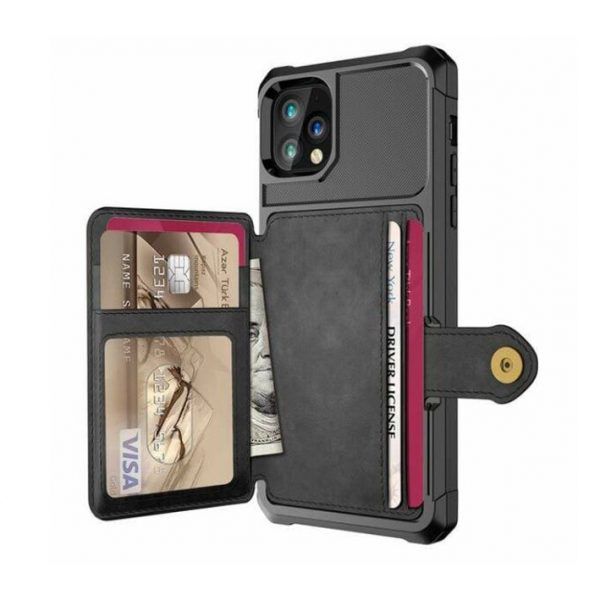 We may not know it, but some iPhone case designers really treat their job like a science invention – they're always looking for ways to make iPhone users achieve convenience in things as simple as a case. If you've carried both your wallet and phone in your hands, you will have an idea of how inconvenient it can be! Our hands can only carry so much.
Good thing, there's Caselet. When we found this product on our list of cases we needed to review, the Caselet stood out for its elegant and innovative design.
Why? Caselet seamlessly merged the features of a phone case and a wallet together.
The iPhone case is downright lux-looking! It's apparent at first glance how the phone case can definitely protect the phone from dents, chips, and dirt accumulation. You can definitely see that it provides enough cushioning to prevent broken screens and dented phones!
But if you really want to be impressed – you have to flip the phone and check the back. It has a mini wallet for cards, IDs, and bills. It comes with a snap-on enclosure to make sure your money and cards are safe. It is designed with a magnetic cover so you can easily attach your phone into car accessories when you need to drive. If you need your bus card and train card, you don't have to take them out. Simply swipe them on the sensor, and you're good to go.
If you're looking for an iPhone case that works far beyond its design, the Caselet fits the bill!
5.CaseIT iPhone 11 /12 iphone wallet case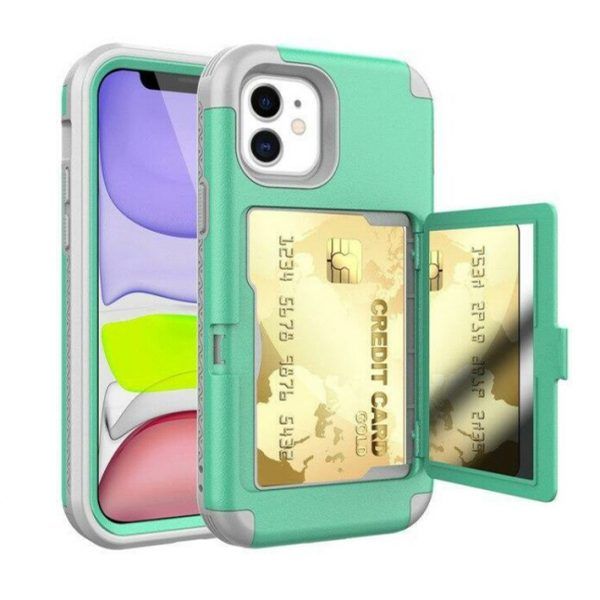 Ahhh! We remember the good old days when we don't want to bring bags, so we make do with what we have – our phones. We try so hard to insert money and cards behind the phone cases not knowing if the case can really hold up securely.
Fortunately, there's an iPhone case that can cater to this need for all-in-one features. We can't stop raving about the CaseIT iPhone case – a case for iPhone 11 and 12 phones that can double as your wallet!
If you hate bringing bags because they're bulky, and they get in the way, the CaseIT can solve your concerns. This iPhone case-slash-wallet has a special slot behind the case for debit and credit cards, and IDs. There's also an extra slot for money if you want to carry bills. We love how you can go out with only the CaseIT phone, and you're still covered.
CaseIT also ensures your beloved phone won't be prone to scratches, dents, chips, and dirt accumulation. This case won't also get in the way of your phone's display, thanks to its full-display access.
If you love checking on how you look every now and then, you have one more reason to love CaseIT. This impressive phone case has a built-in mirror – yes, a mirror to help you ensure your looks are still on point!
If you're looking for convenience and ergonomics in a phone case, then you should definitely check out the CaseIT wallet case!
In today's fast paced world, ergonomics matter. We don't have to utilize big, bulky bags if we can opt for smaller, more effective alternatives. We love how the creators of these innovative iPhone cases really considered providing solutions to phone users who just can't go out without their wallets. With these special iPhone cases, life just got easier.
Each of these products were personally tested, tried, and reviewed to ensure we only recommend the best picks in the market.